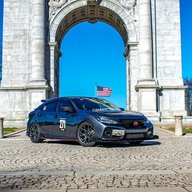 First Name

Josh
Joined

Mar 26, 2016
Messages
Reaction score

681
Location
Car(s)

'11 CR-V SE, '16 Civic EX, '17 Civic HB ST
Vehicle Showcase

This will be an on-going journal and thread about bolt on modifications to my Civic and reasoning behind some of my changes on a CVT transmission.
Here are some baseline information to start off with.
Year: 2017
Make: Honda
Model: Civic Hatchback
Trim: Sport Touring
Transmission: CVT
Country: USA
Modifications (for power):
27WON Performance Hybrid Cold Air Intake
27WON Performance W1 Turbocharger
27WON Front Mount Intercooler and Charge Pipe Upgrade
27WON Turbo Inlet Pipe
27WON RACE MAF
PRL Motorsports Race Downpipe V2
PRL Motorsports Frontpipe
PRL Motorsports Front Mount Intercooler and Charge Pipe Upgrade
PRL Motorsports Flex Fuel Kit
Greddy Performance Supreme SP Catback Exhaust
Ktuner V2 Custom Tune (by: Derek Robinson at Innovative Motorworks)
Other Changes:
27WON Performance Rear Motor Mount
Tanabe Front Tower Strut Bar
Whiteline Performance Rear Sway Bar
Ktuned Rear Camber Kit
BC Racing BR Coilovers
Konig Ampliform
Continental ExtremeContact DWS06
HFP Tailgate Spoiler
BMSPEC Front Splitter *unforunately got destroyed*
BMSPEC Rear Diffuser
So with all these modifications what sort of power do I get out of this setup?
Here is a dyno graph of my setup.
293whp / 257wtq on a e35 blend.
261whp / 236wtq on 93 octane.
Also here is my 1/4 mile times with the setup. Best of that day was 13.34 @107.88. I know that there are faster CVTs than me like in Asia but on regular street tires and regular 18 inch wheels, I have yet to see a setup beat mine.
So that's the numbers behind the build.
Now to explain some of the factors that led me to choose the upgrades and parts that I did.
1). I know that the L15 in the non-Si do not have as strong connecting rods and other internals. So I know that going super high boost is probably not a good idea unless you build internals.
2). I know that the fuel system (in particular the HPFP) is not as good as the one in the Si. I preferably want to stay within basic limits of the factory fuel system unless a viable aftermarket option becomes available or even swap to the Si one if its an easy change. I have been informed that this requires a bit more work. In order for me to use the Si HFPF, I would also need to switch to Si camshafts.
3). I know that I have a CVT and thus the transmission cannot hold the same amount of torque that a manual transmission could hold.
4). I know that I want to track my car and do some 1/4 drag strip days in it but still be viable as a decent daily driver car. I commute to DC and I am often stuck in traffic a lot.
So these factors all direct me to certain parts I wanted to go with.
Why 27WON W1 Turbo vs PRL Big Turbo?
1). Cost is a factor in regards to the turbo upgrade I wanted. 27WON will cost around $1600 vs a PRL Kit which is around $2400. (A tiny bit less with PRL if you already have the downpipe, however, you will need their intake if you go with the PRL turbo kit). So even if you consider the fact of the intake a wash, there still is a big difference of at least $400 dollars (with consideration of the downpipe being included in the PRL kit).
2). Utilization of the Garrett Turbo. Due to the CVT and even larger size turbo than the 27WON, there would be a bit more lag in the turbo and I wouldn't be able to really utilize the perks of the turbo until high load/high speeds. Is $400 dollars worth that slight bit of possible increase in power at the top end that I may not be able to utilize that often?
3). Drop in OE fit vs an aftermarket solution. 27WON's turbo keeps the OE style fitment in mind and has developed theirs so that other modifications could fit into it without issues.
So cost played a big factor in my decision. I already had the prl downpipe and would have to sell the downpipe if I bought the turbo kit. So while the cost difference is $800ish, I would only re-coup like $400 if I was able to sell it and I would have the burden of selling it, shipping it and ensuring everything went well on top of the fact that I would have to switch cold air intakes to the PRL system which would add another $400 or so in cost.
So to upgrade my turbo I would need to spend close to $3000. That for me is a significant investment in a daily that I did not want to tie up so much. Your financial situation may be different from mine and may play a lesser role but for me I didn't nor had the funds at the time to tie up $3k.
Why 27WON CAI vs PRL CAI? (Revisited)
1). Design. I liked 27WON's design. I live in MD where I do experience some flash flooding. With a lowered car and roads that can get flooded easily with 6+inches of water, being the paranoid person I am I didn't want to risk hydrolocking the car.
Now I know this is a pretty hotly debated topic but I honestly think that it really depends on your usage of the car, the region you live/weather and what you are and are not comfortable with. I know that hands down that the PRL CAI will be better for performance. However, I know that it would not take much to wet the filter and possible suck up water with the PRL CAI.
You don't have to drive through 1 ft of water to hydrolock your car and it could only be maybe 6 inches but some stretches of road where 1/4 of a mile is submerged underwater is possible. While I don't do it often, it does occur and for me the peace of mind that 27WON's offered was good for me.
2). Looks. Now aesthetics is all in your own eyes. What I think as looking good might be ugly to you and vice versa. We have our tastes of what we like and don't like. I liked the color scheme and looks of the 27WON CAI. I know this car won't be a HP monster or a track beast. Its a CVT, its a daily.
3). Uniqueness. 27WON was relatively a lesser known company and with its small team. I saw their efforts to build parts for the 10th gen platform. I saw that they were genuinely interested in feedback from the market (buyers). I wanted to root for the underdog. Their mindset seemed to be solid. Not 100% race race race but well thought, well designed, and keeps the consumer in mind. This is not to say other companies don't but I thought that 27WON had the right balance of what I wanted.
Update:
I am currently looking into actually switching to the PRL Race MAF CAI but I am holding off for the time being. Why is that?
Well I am running into the issue of CEL (check engine light) P0103 Mass Air Flow (MAF) Circuit High. Essentially what I am running into is the fact that I do not have a large enough MAF housing for the amount of air I am moving. The voltage commanded by the ECU to the MAF is at its limit.
So the fix to this issue is to get an intake with a larger MAF housing. However, the only company that has a larger MAF housing available is PRL. I have spoken to 27WON and I was informed that they are working on a larger MAF housing for the non-Si. I was told that it would be available sometime this spring.
While I would love to stick with 27WON, it comes down to time for me. I would like to put in a few runs just as the tracks open up and before temps rise too much so I can best take advantage of the weather conditions.
Update #2:
Here is an update to this situation. With all the craziness with this supposed pandemic, everything got delayed and as such it delayed it enough that 27WON released their RACE MAF and I have received it.
======================================================================================================================================================================================
Issues:
The following are some CEL issues I have run into while on this setup.
P0103 Mass Air Flow (MAF) Circuit High
P0088 Fuel Rail/System Pressure - Too High
P0238 Turbocharger Boost Sensor A Circuit High
As you can see, there are limits to what this car can be pushed too. P0103 can be fixed via a new intake/maf housing. The P0088 is a more tricky issue where as there is no direct fix in the works, based on the limitations of the stock fuel system, it would require some other modifications. Perhaps Si camshafts, or accord camshafts to accommodate a different HPFP. P0238 would have to be worked with dialing the boost down or in the case of getting a new 4bar map sensor and having ecu support to read the 4bar map sensor. Current stock limitations is at 29.9psi due to 2bar map sensor.
======================================================================================================================================================================================
Now let me clarify and state that I am not paid/sponsored/partners/etc... with any of these companies. (Although I very much wish I could be) I choose that parts that I believed were best for my build, my budget and my utilization. You may or may not have all 3 same priorities and thoughts in mind when building your car.
More comparisons and reasoning of why I choose a certain brand part over another will be updated at a later time. However, I just wanted to jot down some starting points due to the same questions being asked and thought I could help save some time for me and also help provide information for those who may want to go down the path I did.
If you have any questions or want me to elaborate on certain things please let me know either in the thread here via comments, PM, or contact via IG DM (I tend to check IG more often). IG: @issafk7
Until next update!
Last edited: