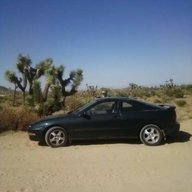 First Name

DerekZoolander
Joined

Aug 16, 2018
Messages
Reaction score

55
Location
Car(s)

2017 Civic Touring

Hey everyone,

Sometimes when I am traveling at low speed (1-8mph) in stop and go traffic the car will shake or jerk when I give it a little gas.

One of the best examples is when the cars in front of you are stopped so you kind of just coast behind them at low speed (maybe braking a little too), you see that they are moving again, and then give it some gas to keep the car moving into that space that was just created. When I give it a little gas in that situation the car sometimes jerks, jolts, or shakes, kind of like a rough shift, as it starts moving forward. It definitely doesnt happen every time. I also haven't gone to any length to try and recreate it.

It doesn't happen when I'm completely stopped and then give it gas. It also doesn't do it when I'm decelerating at higher speeds and then giving it gas. Maybe this is some kind of low-speed momenum related thing?

Maybe it's completely normal and I just dont experience it much because ~90% of the car's miles are highway and backroads (the wife and I are using another car for the concrete jungles). This is also my first CVT.

Anyways, I'm wondering if anyone has experiences similar to this and whether or not it is an issue. Thanks in advance for your input!