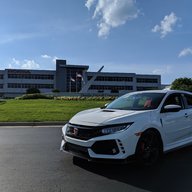 Joined

Apr 14, 2019
Messages
Reaction score

49
Location
Car(s)

2019 Civic Type R (Championship White)

First time posting a thread, apologize if it's not well written.
In a boring afternoon, I decided to do a modification to my empty blank cover on my Type R.
The intent of this design is the remote only functions when battery power is turned on or when engine is running.
During shut down (no power, engine not running), LED of momentary switch will not remain constant on to drain battery power.
What I used:
QTY (1) Garage Remote
QTY (1) Buck Converter (Voltage converter 12 VDC -> X VDC)
LINK
QTY (1) Momentary Push Button Switch 16mm
LINK
QTY (1) Mini Fuse Tap with 5 amp fuse
QTY (1) Honda Blank Cover (P/N: 77755-TBA-A00ZA)
LINK
Tools:
- Multimeter
- Wire stripper
- Wire crimp
- Soldering iron kit
Here's what I did:
Carefully remove driver side dashboard lower cover.
With back side of the Blank Cover exposed, push in locking tab from the back and remove Blank Cover
Carefully drill a 16mm (approx 5/8") at the center of Blank Cover
Insert the momentary switch to Blank Cover and ensure secure fit.
Front:
Back:
Tap the 5amp fuse to interior fuse box #1 (10amp)
Using the bolt at the top as ground (- terminal)
Connect the positive terminal (tapped fuse) and negative terminal (ground) to the Buck Converter.
Turn on battery power. Buck Converter read 12VDC at this point.
Turn the fine knob on Buck Converter and convert 12VDC down to 3.5VDC (my garage remote battery voltage).
Wire and solder 3.5VDC to garage remote to simulate the power supply (battery).
Solder the LED power wires of momentary push button switch's + and - terminal to ensure LED lights up.
By looking at the garage remote micro switch, carefully find the terminals, then de-solder microswitch from PCB.
Solder the momentary switch wire to garage remote micro switch terminal.
Assemble the remote, Buck Converter, and secure as an assembly.
Assemble the system, install switch to blank cover and to driver side dashboard lower cover.
Connect QD to the momentary switch and turn on car power.
Now I have a cool looking garage remote switch on the blank cover!