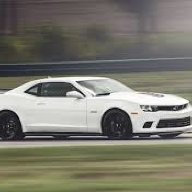 Joined

Jan 14, 2020
Messages
Reaction score

91
Location
Car(s)

2019 Civic Type R || 2016 CR-V EX-L || 2015 Camaro Z/28
Hello, this is my 1st post and thread on the forum. Not a CTR owner as of yet.
Have been very much interested in the 2017+ CTR since it's release and been actively following this forum too, however the styling with the wing has been a barrier to entry for me. Was waiting with anticipation for the 2020 model to be announced with at least an option for a low wing or spoiler, given the various photos of low wing/spoiler cars that were circulated.
Since the 2020 CTR announcement came and went without any wing changes or options. I put in a casual phone call to APR Performance yesterday, they make aftermarket CTR wings as shown here:
http://aprperformance.com/racing-vehicle/civic-type-r-2016-up/
Their wings come with carbon base-plates that mount via the factory mounting holes, as seen in the pics. These base-plates are all that are needed to remove the OEM wing and weatherproof the mounting area. Each base-plate is $122 with the hardware and gasket included ($244 for both).
Install is as simple as shown here:
http://aprperformance.com/manuals/
These base-plates do have vertical sections that allow for the upright pedestals to be mounted. If you're looking for a quick and easy way to remove the wing these base plates are all you need. I could of bought them yesterday on the phone.
However, if you're looking for a 'cleaner' look (as I am), I asked APR would they produce these base-plates without the upright pedestal accommodations. They said with enough interest, they would indeed produce the smooth base-plates just to act as a weatherproofing solution to removing the OEM wing.
So I ask this community, who has interest in removing / deleting their CTR's OEM wing via a simple solution? Please vote accordingly.
***Not speaking on APR's behalf or excluding other potential manufacturers of such component to create a wing deletion / removal solution without the need for a new hatch or welding/body work.

Image of holes that need covered to the left and right of the rear window, technically the covers do not need to be as big the APR base-plates (they're that large to support the wing's load)
Images of wingless CTRs
Last edited: