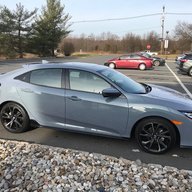 First Name

Mitch
Joined

Jan 19, 2016
Messages
Reaction score

108
Location
Car(s)

2019 Civic Hatchback Sport Touring ; 2016 CRV Touring
Vehicle Showcase

Yesterday, I was out running some errands with my Touring [which now has about 3500 miles and has had the 16-022 Audio Update] when, after a few stops, I get back in the car, start it, push the Audio button, and nothing!
Everything was fine all morning until after one of my last stops, the audio unit just would not work [no radio, XM, Bluetooth, or Siri. I re-booted the system twice with holding down the Audi button and stopped the car twice to re-start but nothing changed; still no sound.
So, since I am off to vacation next week, I decided to stop by my Honda dealer. I parked the car, got out, went to speak with my service adviser, got back into the car with him to show him, and, wait for it, yes the Audio came back on! Incredibly embarrassing! The service guy was so nice as to not make me feel like an idiot he told me not to worry about it as these systems are complicated but that they usually self-correct themselves after the car sits for a bit. He said that if it did it again, they would spend more time checking it out.
Has anyone else had this happen and if so, what did you do?
Thanks!