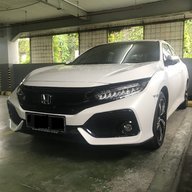 First Name

Arnoldo
Joined

Nov 28, 2019
Messages
Reaction score

116
Location
Car(s)

2019 Honda Civic Hatchback

Background
My car is Honda Civic 1.5T hatchback. We don't have manual option & we don't have SI. The closest thing to SI in terms of internal durability is CR-V.
In my country, we have many tuned Gen. 10 Civic experience connecting rod failure. The cause of failure does vary from bad tuning on flex fuel, excessive boost (26 psi), & owner careless act filling up a tuned car with 87 octane.
However, there are tuned cars with ots map experienced rod failure without apparent reason.
I have my car custom tuned and I specifically ask for 20.5 psi max. This decision was made because I want the tune to suit with my engine characteristics.
The Quest
My knowledge in engine tuning is basic. My knowledge about gen 10 Civic is kindergarten.
Yet, I would like to tune and keep the car for at least the next 15 years. Point is, I won't sale it
I browse Civic X forum & found what we need to worry for our CVT & connecting rod is high torqe at low rpm.
Should I upgrade my rod with this level of torque & hp?
Torque at crank
BHP at crank
If I should upgrade the rods, should I get CR-V rods or BC? I have no plan to upgrade the turbocharger & likely only increase the boost to 23 psi max if I do the rod upgrade
Thank you.