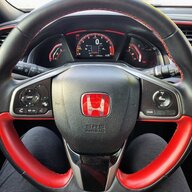 First Name

Anthony
Joined

Jul 13, 2018
Messages
Reaction score

220
Location
Car(s)

2008 Honda Civic Si sedan

The low temp thermostat is unlikely to give a significant improvement. Once you reach the threshold temperature and your stock or Spoon thermostat is fully open, then it's all up to the cooling system to dissipate the heat. Either thermostat will be equal in sending the coolant to the radiator. Even if the Spoon opens sooner, after 20 seconds of full throttle the stock one will be open too and after that they are equal.

Assuming you have plenty of radiator cooling capacity that can actually hold the temps down to where the Spoon makes a difference (and generally none of us do), the only reason I can think of to have a lower operating temperature is you can delay preignition and thus run slightly more spark advance, and maybe run leaner (which means it runs hotter) for more power.
Agreed, makes sense. That JDM markup at ~$130 is also just insane lol.