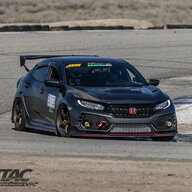 First Name

Brandon
Joined

Apr 8, 2019
Messages
Reaction score

132
Location
Car(s)

2019 Civic Type R, 2006 v8 4x4 4Runner, 2018 Forester XT

Steering inputs are really smooth though I don't recommend shuffling the wheel that much. I'd highly recommend having an experienced buddy or coach sit with you because there's a lot of little things that add up to a lot of lost time here.
I was just about to comment about shuffling hands too. Line looks okay, but keeping hands at 3 and 9 and just let your arms cross over might help a bit with shuffling. Takes time to get used to but you'll notice worlds of difference in your driving if you only move your hand right hand to shift.
Appreciate the feedback from both of you!
Just wanted to note here that I hadn't been to Buttonwillow since 2015 in my old Subaru and have been consistently racing in Rallycross since then, so my on-track skills are a bit rusty, although I had done Streets and 3 AutoX days prior to this track day.
Also - The M3 in front was gutted, with roll cage, seat/harness/wheel, BBK and running 100tw tires, I was impressed to be keeping up!
I will try to not shuffle as much next time, but it certainly will attribute to more arm fatigue as R-Mode steering is heavy.