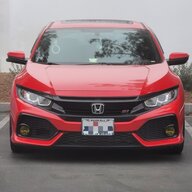 First Name

Michael
Joined

Aug 8, 2020
Messages
Reaction score

83
Location
Car(s)

2018 Honda Civic Si Sedan
Build Thread

I bought a certified preowned 2018 Civic Si in August 2020. Car is currently at around 33k miles and I bought the car at around 28k miles. It was fine up until a few days ago. It was Thursday (2/24/21) morning, tried to turn on the car - lights flickered and nothing. It looked as if the battery was drained, but I had no lights on or anything on overnight in the car.

I managed to get the car to start by pressing the push start button a few more times then let the car sit for a bit. I assumed it was a dying battery so I called AAA to see if they can inspect it. Technician came in and did the battery check and told me the battery was good and passed as well as the alternator and the starter. He told me it could have been the weather (40F) but the week before was just as cold if not colder and I never had this issue. Drove to my destination and had no problems.

Today (2/26/21), car started fine, drove to work (40 mile commute), worked my 8 hours and got ready to go to BestBuy which was about 40 miles (closer to my place). Car started, drove, parked at the BestBuy, stayed for about 30 mins just browsing and catching up with a few old friends there. Got back and tried starting the car and was met with the same issue. Thankfully I was able to get the car started again by just pressing the push start button and just drove back home.

I already have an appointment next week to service the car. Had do to an oil change, brake fluid change, and have TPMS sensor issues so I might as well get that issue checked.

I feel like it's just the battery going bad, but I'm not too sure.

I am just curious if anyone had the same issue and want to share their experience before and after it was fixed.