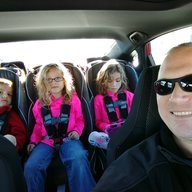 First Name

Charles
Joined

Nov 3, 2017
Messages
Reaction score

3,777
Location
Car(s)

'14 Odyssey EX-L '18 Civic SI Sedan '94 300zx twin turbo 2001 Ford F-150 Sport
Vehicle Showcase

Yep. Think of your clutch like your brakes on a car w/o anti-lock brakes (for the purpose of this discussion... we want things to lock up). They're both similar devices enough to try to connect some dots... and if you know brakes a bit, it might make more sense. There's friction material just like your brake pads. The brakes use hydraulic pressure pushing on a piston(s) that are in a caliper… pushing the pad against the rotor. The clutch has a couple pieces... a pressure plate which has friction material that is being pushed against the flywheel from a diaphragm spring that's on a pressure plate (If you're not familiar with these... they're kind of like a wavy washer... but provide more uniform force than a wavy washer will. If you look up a picture... you'll see what I mean). When you push on the clutch pedal, you're pushing on the diaphragm spring and pulling the clutch disk of the flywheel... unlocking them. Random YouTube videos will help because they'll let you visualize the process.

If there's enough pressure applied from the diaphragm spring which is part of the pressure plate and enough resistance from the friction material which is part of the clutch disk... the clutch, which is between the transmission and the engine will slip for a moment, the different speeds will equalize, then lock onto the flywheel and make them spin together. If there's not enough force from the diaphragm spring (which... BTW... a weak diaphragm spring is indicative of a light clutch pedal, which we have in our cars) then it won't lock on and it'll slip... as the friction material is wearing on the flywheel surface. Just like brake pads... if you slip them enough to get hot... pads will glaze. That will make them have a burned in 'glassy' coating. When that happens... they'll provide far less friction and slip more. That's why clutches that are allowed to slip a lot will actually lose holding power... along with the loss of friction material depth means the diaphragm spring has less length of material to push on... and it's going to provide less force. The only variables I know of that'd affect the holding power of clutches would be the surface area that's contacting the flywheel... the type of friction of the material and the force the diaphragm spring in the pressure plate is exerting on the clutch disk. There may be more I don't know about... but that's all that comes to mind.

What happening with the clutches slipping most people are seeing and saying our clutches are weak is that it's initially engages and locks onto the flywheel... but when you go WOT... the engine is making sufficient torque vs the counter torque of the transmission and everything downstream it such that there isn't enough holding power and the clutch becomes unlocked from the flywheel and is spinning against it... heating and wearing the clutch material... heating and scoring the flywheel. You see it by engine RPMs rising but without an equivalent expected increase in vehicle speed. It's because the engine is unlocked from and moving faster than transmission.

That's why when you're running TSP Stage 1... you can just look at the torque curve from the dyno and see where things would be at their worst torque-wise... around 3000 RPM. So far as counter torque... think of a bicycle with gears. You hop on a bike that's running slow then try to pedal in the highest gear. It takes a huge amount of effort... though you're turning the pedal slowly to keep it going. Just like trying to turn a stubborn bolt with a tiny wrench vs a breaker bar... it's the same with a small gear vs a larger gear. If you give yourself more leverage, you can essentially accomplish the same amount of work (distance traveled of said bike or bolt) with less force (torque) applied, albeit with the need to do the work over a greater amount of rotational spinning (speed of pedaling or the travel of that big breaker bar vs that tiny wrench). That's why I encourage people to let their cars rev out.... use the power at higher RPMs to spin a larger gear faster than a smaller gear slower. In the end... even with a tiny turbo that spools quick, the car makes far more power and will accelerate faster by revving it out.

You're always slipping a clutch a little when you're shifting gears at portions of the clutches intermediate position... especially from a stop. When the car is at a stop... if you made the engine speed equal transmission speed... then engine speed drop to zero (because the transmission is stopped) and the engine would stall... or you would have been dumping the clutch, creating a huge amount of stress and causing the transmission to essentially accelerate immediately. Slip is necessary to allow the engine speed and transmission speed to meet without the engine stalling/excessive strain. That's also why flywheels are important... because they're just a weight to store mechanical energy. They're a big spinning weight at connected between the engine and the transmission the clutch is locking on to to ensure the engine has enough momentum built up that it doesn't stall when the clutch is engaged. Folks that run light flywheels have to slip clutches more and (or) spin an engine faster before letting off the clutch to keep an engine from stalling.

"Riding" the clutch is bad because you're intentionally keeping your foot on the clutch pedal when driving. That is allowing the clutch to constantly slip. That will cause the aforementioned wear and overheat that can lead to glazing and early clutch failure. Novices who want to go slower than the idle speed with a car just in 1st or 2nd (~3 and 6 MPH for the Si) will ride the clutch to allow a slower speed from continuously slipping the clutch... but will cause their clutch to fail early in the process.

Videos are very informative... when you see it work... it makes sense. It's one of those things... like a CVT that's actually kind of simple, but unless you see it work... it seems like PFM.