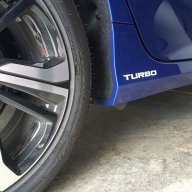 Joined

Jul 22, 2016
Messages
Reaction score

29
Location
Car(s)

2016 Honda Civic Touring
Vehicle Showcase
Greetings from Dayton, Ohio! I picked up my '16 Touring in Aegean Blue Metallic about two weeks ago and I absolutely love it so far! I've already done a fair amount of exterior modifications in just the first two weeks alone so I figured I'll document them below with pictures. I'm also still trying to figure out what to name her, so if you have any suggestions please comment below!
Current modifications
Future modifications
Clear Side Turn Markers w/ LED bulbs
Rear LED brake lights & 3rd brakelight
Rear LED turn signals
Rear LED reverse lights
exLED Interior Lights
Initial Test Drive / Drove it home a few hours later
Out with the old, in with the new
Turned my '14 Corolla S lease in 5 months early because I absolutely fell in love with the Civic after test driving it - you can't even put them in the same class with as much tech as the Civic has loaded in it. Can you tell I really like the color blue? Also might have partially freaked out that I technically had two car payments at this exact moment in time (until I actually turned in my lease this past week, phew).
First addition - SUNDELY Exhaust Tips
Before

After (two pics)

Although I wasn't all that impressed with the condition of the exhaust tips when they arrived - had black paint crudely painted on some of the outer part of the tip as you can see on the left tip in the picture above - I'm overall very pleased with the aggressive look that these give my car.
Second addition - TJ's Turbo Decals
Huge shoutout to
@timothyjay
for getting these printed and for the super quick shipping - these are awesome man!
Third addition - Flexfilm Panaflex Ceramic 20% tint all around - $371.49 installed
I had 35/20% Johnson Renegade on my '14 Corolla and the 35 just seemed a little too light for my liking at times. I decided on 20% all around and it looks FANTASTIC! I will say though that I believe Panaflex is darker than most other tints out there today, as shown in the overcast picture below - this tint is also pretty dark at night, took a few nights to adjust to it. The other main reason I opted for such dark ceramic tint is that with the black leather interior I was frying like an egg in my car everyday. I've already noticed a substantial temperature difference and on a sunny day I can actually get into my car without wanting to scream and jump out. My tint installer said he's been seeing up to 75% heat rejection with Panaflex - I'm convinced. Definitely recommend this tint if it's within your budget.
Overcast Sky
Stock windshield vs. 20% passenger window from the inside
I thought this picture might help those debating if 20% is too dark for them or not. The picture below was taken in direct sunlight and as you can see you can still fairly easily see out - like I said above it does get substantially darker at night though.
Fourth addition - SiriusLED H8 30W 6000k fog lights
These were fairly easy to install and I was surprised by how bright they are! I'd say they're actually brighter than our stock touring low headlights - they definitely help illuminate signs on the road at night and they look fantastic.
Left stock bulb vs. Right SiriusLED bulb
Both SiriusLED bulbs installed
How she looks today
Pardon the horrific parking job, was late for work as it was and I might still be figuring out how exactly to park this car
Took this picture walking back from Panera one morning - just love the way the dark black tint compliments the Aegean Blue especially when the sun hits it.
Will post more pictures as the modifications progress - so far loving this car!!