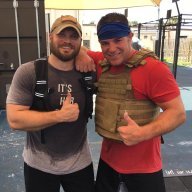 First Name

Trevor
Joined

Jul 7, 2017
Messages
Reaction score

323
Location
Car(s)

2017 Civic Si White Orchid Pearl, 1983 Foxbody 4 eye Notchback

Well, I have always done stupid in-depth build threads but with the whole Photobucket fiasco of 2017 I was somewhat against them. I was also using the car for my long commute and wasn't' going to modify it much...
So - CivicX actually host pics, and I haven't left the car alone since I got it in Late October so going to do this as a place holder and come back and do pics and catch this up - to include installing some parts and then taking them off and the reasons behind that.
So expect a few months worth of updates soon, and then will be buying some camera equipment and will start posting more youtube vid's as the phone ones suck;-) Oh, I commute 120 a day minimum but usually around 160 a day, that why I have put so much in the sound deadening etc, bought last week in October at 15,500 miles this morning already
At 44k as of March 1st

New Wheels Again back in November....Konig 18x9's in Gunmetal
Also this may be helpful for torn CV boots:
https://www.civicx.com/threads/replacing-torn-cv-boot-on-axle-shaft.27905/
Inserting stock photo - or what I have at this time as a start, and below are the current mods:
These will change lol:
On the Car:
80mm Norinco Butyl Mat - 30 sqft currently installed
Closed Cell Foam - 26 sqft currently installed
Long leaf covers in engine bay
HID's - 55w
RallyArt mud flaps
Rubber mats in all cubbies - black and red lol
AVS In Channel Vent Visors
Max Legal Llumar Ceramic Tint
Soundstream front tweeters - rear originals were destroyed when I removed the rear decking...
LED's interior lights and reverse lights
TypeR Shifter assembly
Window Welded motor mount
Solid bushings for shifter base - HomeDepot Mod;-)
KTuner v1.2 with TSP STG1
And various other little things
Eibach Si ProKit
Boomba Weighted Shift Knob in Black!
Husky Floor Mats
Acuity Shifter Cable Bushings
Removed Resonator
PRL Stage 1 intake with Heavily modified stock Airbox
Eibach Pro-Kit
Godspeed Rear Camber Arms
Sitting on the workbench or in the mail coming to me:
Remaining Butyl sound deadner and Remaining CCF
BBS RK in 18x7.5 - Getting Blasted and Powdercoated to Sell- Will sell on Ebay for 1200 starting price
Items I had on but removed for various reasons:
20mm Spacers x4 anodized black with 10.9 studs
Mishimoto Oil Catch Can - Sold
Gold Rota SDX 17x7.5 ET42 with 215/40/17 tires - Sold​
PRL Cobra Race Intake
Gloss Black Vinyl window surround
Hasport 62A mount
Red Injen CAI
Redline360 - Rev9 2.5" catless downpipe and front pipe
Stock Si Shift knob
450g neochrome shift knob - LOVE the weight but too hot in Florida - For Sale $20 shipped in US
Boomba Motor mount - I loved it and what it did for the car, my wife who rides often with me hated the
VMS "Fucking Fast" Shift knob in Red - For Sale $25 shipped in US.
MAPerformance Stainless Intake
Screen cover for stock stereo
Stock Si Wheels and Tires


Things to buy in near future:
Rear Solid swaybar and/or endlinks
Autocross/Roadrace rims and tires 220 treadwear, step down to 17"s etc.
Clutch
Stainless clutch line and do CDV delete while in there
Duckbill rear spoiler - would trade my rear trunk lid for another WOP sedan rear boot lid as I don't want to have to fill the holes... ​
View attachment 105578
View attachment 114899
View attachment 114900
Current Configuration on the car will add in tomorrow lol
Last edited: