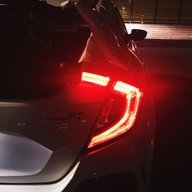 First Name

Jimmy
Joined

Jun 5, 2018
Messages
Reaction score

201
Location
Car(s)

2018 Honda Civic Type R - 16626 - Championship White

Here is a comparison of some sound clips of the AWE Touring Edition Exhaust for the Civic Type R with stock dp / catted dp / catless dp
Exhaust has been broken in well over 1000 miles and my own opinions on each setup
Stock DP
-Deep sounding exhaust with very nice burbles. Drone is at a minimum to none at cruising speeds throughout the RPMs. Exterior sound is very sporty and aggressive (not overly loud). You do hear the exhaust especially on throttle (nice deep sound), but other than that interior sounds are kept to a minimum and very livable.
-(
Short drive by
)
Catted DP
-Exhaust sound has deepened imho. Burbles are more pronounced, which makes it a very fun exhaust to drive around with.
-Interior sound clip shows the mild resonance that the catted dp introduces with the AWE exhaust. HOWEVER, this is either drone or exhaust note. Imho it is just a more pronounced exhaust note, which some can get mixed with drone, so take it how it is and listen closely to the video as a comparison to other videos.
-(
Cruising
)
-(
Cruising
)
-(
Exhaust rev
)
-Personally, I'd prefer it with a catted dp for the more sporty and aggressive exterior sound. More sound clips can be heard from AWE's videos (
). They do a very good job at showing the exact sound that you will get from the exhaust. *My video's do not show the true sound from the iPhone X quality lol as it is much deeper in person*
Catless DP
-Exhaust is crazy loud, but pops and gurgles make it very fun to drive. However, with the introduction of a catless dp, the AWE exhaust's drone RPMs (varying from 2-3k) have increased a little too much for me. It has a very annoying buzzing sound, which imho can be very unbearable for long commutes. *Not girlfriend approved*. However, this setup is very aggressive and will definitely turn necks.
-If I did not have to worry about passenger's then I would run this setup for the deep sounding roar and gurgles the exhaust produces (check video for sound)
-(
YouTube/Exhaust Rev/Exhaust flyby
)
Conclusion
-AWE's Touring Edition exhaust is a well crafted and tuned exhaust. However, it does have varying exhaust note resonances at varying RPMs, but tolerance to this is subjective to each person. Some may find it very good, some may find it a little too much. Personally, when you're going uphill, it is going to have some more resonances, but I did find myself having to drive at higher RPMs to avoid some of the resonances for catted and catless dp (highway driving). No drone when you're going 80mph and up or 6th gear around 50-58mph or hovering around 3k rpm for catted dp (drone for catless dp). City driving with stock/catted dp is easily livable and fun.
-Nonetheless, the exhaust sound is great, the gurgles make it fun, and daily driving the exhaust is manageable (with stock / catted dp).
Weld Quality
-I have seen others questioning the weld quality on AWE's exhaust, but from my experience and eyes, the welds are done very well. While they may not be the prettiest welds, the TIG welds do the job.
Final Opinion
-Personally, with the AWE exhaust I would learn towards either having it with a stock DP or catted dp because with a catless dp it is too loud (for me). The exhaust tips are BEAUTIFUL on the car. Triple diamond black 4.5in exhaust tips are hard to beat and are a beauty to look at (less cleaning to worry about too). The Touring edition makes it livable and have a deeper sound. One thing i do want to mention is that with Stock / Catted DP, 0 (ZERO) rasp with this exhaust. I hope this helps in choosing your next exhaust! AWE is definitely one to look into if you're looking for a sporty deep sounding exhaust with NO rasp.