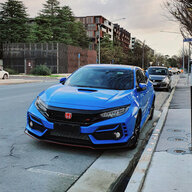 First Name

strop
Joined

Nov 21, 2020
Messages
Reaction score

29
Location
Car(s)

MY12 FK2 VTi-S, MY21 FK8 Civic Type-R

Ever had to park in the full sun, and when you get back the gear knob burns your palm so bad you yell "Crikey!"?
Fear not, I got a ridgey-didge life hack for ya so easy you'll think it's the dog's bollocks...
Or rather the roo's bollocks coz that's literally what this was. Perfect for that searing 'strayan sun when even a sun shield doesn't cut the mustard! Pretty clever eh?
On a more serious note does anyone have any particular recommendations for driving gloves that can be worn on a hot day for when I don't wish to commit this automotive sacrilege I.e. always?