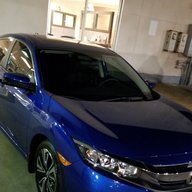 Joined

Dec 12, 2018
Messages
Reaction score

3
Location
Car(s)

2018 Civic EX-T

Hey all,

Bought my Civic new last year in March, it's a 2018 EX-T, and in the near year and a half that I've owned it, by far my biggest gripe is issues staying connected to Android Auto. The only way I know of to enable Android Auto is via USB tethering, but every single day throughout the day I encounter times where just the slightest jostle of the phone untethers it and oftentimes re-plugging it in immediately will not reconnect it. I've had the same issue with several authentic OEM Samsung cables, brand new, and even when I upgraded to an S9 last year from my S8, the issue persisted, so I know it is likely not the charging port on the phones. I also do not have issues with the charging port when the phone is on a charger, so it's definitely something with either the software of the car's USB port.

Anyone else have this issue and know of a remedy? I wish Android Auto could be enabled via bluetooth or something, that would make the hassle 10x easier. Ironically, even if Android Auto loses connection, the phone is still clearly connected because it continues to charge. If I could charge the stupid phone and just have AA run off Bluetooth, life would be good.

Are there factory updates for the headunit? I haven't been back to the dealership since I bought it, save for a brief visit for a TPMS related inquiry. If there are factory firmware updates, do you think that would help?

Appreciate it!