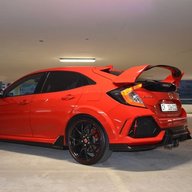 First Name

JP
Joined

Jul 3, 2020
Messages
Reaction score

5
Location
Car(s)

2018 RR FK8 Type R
Build Thread

Time I start my build thread and have that nice reference of the journey that will follow
I've had a few cars over the years and always been a big part of my life, just love cars, modifying them and the passion the community shares and families that form because of it
Need to go dig in my archives and will post some decent pics for each but my previous cars include:
- 2006 Ford Fiesta ST150, my first performance orientated car and will always have a soft spot for this go-cart
- 2010 Ford Focus ST225, gotta love that 5pot grunt and sound
- 2011 Renault Clio RS Gordini, kept it stock and was a blast and a proper looker
- 2014 Ford Fiesta ST180, properly modified and was such a pocket rocket with the Pumaspeed hybrid turbo, 225kw in that weight was epic
- 2009 Audi S3 8P 3dr, just a fast commuter, worst 'sports car' I have owned even with modifications
- 2014 BMW M135i 5dr, incredible comfort and sound, only automatic I've owned and loved the ZF gearbox
- 2016 Honda Civic FK2 Type R, was blown away by the handling and the precision, sold me on Honda and the first Hot Hatch that I felt could compete with a super mini ito handling and involvement
Had the FK2 for about 4 months then a FK8 rocked up at the same dealership and I organized a trade right away. Never been so in love with a car and haven't looked back since. Think this will be the first car I won't sell.
Currently it is stock but have a few parts that I'll be installing in the coming weeks
These include:
- Carbon hydrodip steering wheel
- Hondata FlashPro (correct one
)
- Wagner Tuning Intercooler and piping
- Torque Solutions Rear Motor Mount
- Hybrid Racing shifter assembly with their base bushings, cable bushings and stiffer return spring
- PRL Stage 1 intake (friend testing HVI on eth map first to see gains before I pull the trigger)
- LX climate controls
- Custom 3" exhaust with VIE valvetronic boxes (not just a normal valve, actually becomes a straight exhaust when opened)
Then some other parts on my list to aquire in the near future:
- Enkei TS-V 18"
- H&R springs (less drop to improve shock travel and life)
- Improved gearbox oil (We don't get Amsoil here so looking for the next best thing if anyone knows, maybe Motul?)
- PRL clutch cable
- Radium PCV catch can
Then I first want to enjoy it before moving on to fuel system upgrades etc and also see all the developments that competitors will bring