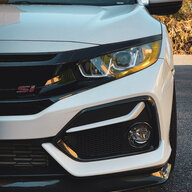 Joined

Jan 18, 2016
Messages
Reaction score

509
Location
Car(s)

2019 PWP Civic Si Sedan
Vehicle Showcase

Lease came up 4/6/19, decided to upgrade and get a 2019 Si this time around after not driving stick shift since 2006. Loved the WOP so I opted for the platinum white this year.
Things that I like:
-Being able to transfer most of my mods over from my 2016 to 2019.
(Rubber OEM floor mats, OEM Trunk liner, smoked switchback LED side markers, 55w HID kit with LED high beams, Hondata Programmer (though I recently traded it in for a KTuner now) and my mishimoto oil catch can)
-Volume knob!
-Subwoofer!
-The seats (I feel like they seat higher than my EX-T even though it's on the lowest setting? Anyone feel the same?)
-Black roof liner and all the red accents (nice touch Honda, seriously)
-LSD and active sport suspension (This really made
Things that I dislike:
-The steering wheel volume control doesn't slide? I got so use to it on the 2016 so I was sad that got removed.
-There seems to be a delay with the right turn side camera toggling on/off? I'm unsure if my old EX-T had this type of delay but it's definitely noticeable.
-The catching point to the clutch seems very high to me
-Rev hang (Haven't tuned the car yet even though I have my programmer, waiting until it fully breaks in and I get use to driving MT again before I start doing stupid shit)
-This is more on my part but I forgot to remove the OEM splash guards from the 2016 and put them on my new one (whoops)
-Forgetting to clutch in at times when coming to a complete stop and almost stalling the car.
-My K&N intake that I got from them testing it from the 2016 seems different from the 2019 Si and doesn't seem like it'll work with the car so I need to get a new one unfortunately. (Which means I'll be selling my intake for the 2016 soon)
Otherwise, it feels great being back on MT, got the car with 8 miles on the ODO, had it since 4/6/19 and to this day we're nearing 496 miles already.
For reference, here's my old 2016: