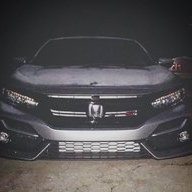 First Name

Martin
Joined

Oct 22, 2019
Messages
Reaction score

542
Location
Car(s)

2012 Honda civic lx 2020 civic si

Everytime the topic of modifying ones car comes up (especially tuning) our community seems split into two groups: 1.those who mod 2. Those who think its moronic to do so.
To start the Year off right i thought i should post about a mod i figured both groups could get behind!
I have subframe bracing on my 9th gen and it makes a world of difference. Even before i bought my new Si i was researching subframe bracing assuming the new 10th gen would benefit from it as well, i soon learned the new chassis was way stiffer stock for stock. It caught my eye that the Type R came with a subframe brace stock. But i stopped researching assuming the new chassis would be enough.
After owning the 10th gen a few days, i was amazed. The new chassis was miles ahead of the previous gen. I couldnt get that Type R subframe brace out of my head. Not because i necessarily thought the car needed it, but because there was no real review of it on a Si and if Honda has it on the Type R it must do something, right? It was 38$ and $4 for the bolts so i caved and bought one.
Install was a breeze, thanks
@jacobegg
for the extra set of hands!
I immediately felt a difference coming out of my bumpy neighborhood road. The pot holes and bumps where much more pronounced, the car seemed less forgiving in that sense. I immediately got on the freeway and drove 1 mile to the nearest 180° highway exit. The results where awesome
This brace shined at highspeed sweeping turns. It didnt increase corning speed like maybe a sway bar would. It doesnt increase the "limit" of the car. It does, however, make finding the limit and riding it much easier. The car felt settled much sooner during turn in and made holding a line much less work. Its such a confidence booster when approaching turns. It almost makes turning on these stock eagle all seasons fun!
For a OEM piece that cost under $50 im blown away. I hope someone finds this helpful and i wish you all and your families a happy new year!