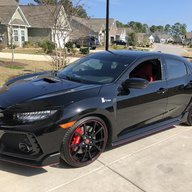 First Name

John
Joined

Mar 6, 2019
Threads
Messages
Reaction score

264
Location
Car(s)

2018 type R 2015 c300

574whp on a g25-660. So the first question is what's the set up always. Built by fk8td.com. Fk8td injectors, Fk8td high flow fuel line, Xtreme DI fuel pump, full ferrea cylinder head treatment, Fk8td cylinder porting, Ramey racing sleeves, boostline rods, Je ultra pistons, GE head gasket, 4 piston clutch masters titanium edition twin disk, and it's on Hondata.
The mix was e30 and 500cc of methanol. Without methanol on e30 the car made 545whp at 26psi. At just 27 psi with methanol the car made 574whp. There was still room to go but the car is rowdy to say the least at that power level. I was absolutely not after records or max hp on this set up. Yes the motor can take way more power but the transmission can not long term. Without serious torque reduction in the first 3 gears just spin.The fact the car has toyo r888r with 265/35/18 doesn't matter at all. It's just way to much power. So much so that hondata traction can't keep up at all.
The cylinder head porting was very essential to getting this kind of power on a lower boost level. It was amazing to see a 7 psi drop and a drop in ethanol content from 45 to 30 and make the same power. There was great care taken into keeping high velocity in the port to allow much better spool. Spool was reduced by 600+ rpm compared to before. This was a more impressive improvement than I thought possible especially being the car has a .92 AR turbine housing. On the stock cylinder head it was somewhat lazy but on the ported head turbo response is better even than the .72AR was on the stock head. I've attached some videos showing the difference in turbo response before and after the ported head.
Some of you are going to say it's a built motor of course it makes more power. The fact the engine has sleeves, pistons and rods upgraded will not lead to a power increase. Especially when the bore size and compression are almost identical. Rotational mass is actually a small measure heavier due the size of the boostline rods and the heavy duty wrist pins included with JE Ultra pistons. Power increase comes from the cylinder head or an increase in displacement.
Those of you who don't know I own Fk8td or known as Fk8 Tuning and Development. I'm mostly on Instagram so catch me there fk8_tuning_development .
Porting the cylinder head does not lose power, It does not destroy driveability and it most certainly does not ruin the cylinder head. People who do not understand what porting a cylinder head does to a direct injection motor fail to make power on it. Of course porting increases fuel consumption at wide open throttle fuel consumption cause more air is getting into the cylinders. Normal driving my mpg is the same as it was before. Averaged 25-26 mpg.
Soon will be time for motec or syvecs ecu not because I can't make more power on Hondata but rather power control is more difficult.
The 541 Dynograph is Direct Injection only and 574 is with methanol. I did make 545 on Direct Injection only but didn't take a picture. The car is more than capable of 600 on the dyno as it is now. . The video that eats the tires alive is turned down from 574whp