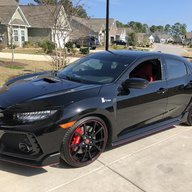 First Name

John
Joined

Mar 6, 2019
Threads
Messages
Reaction score

264
Location
Car(s)

2018 type R 2015 c300

So it's been a while I've been super busy. I wanted to share my results that were unexpected.
I was literally shooting by for 475whp using meth and 450 using e30 only with an xdi pump.
The e30 was as expected. First run was 421whp on a map I literally threw together there as I hadn't even made one specifically for e30 with xdi pump on the car yet.
the 3rd pull resulted in 448whp.
Goal essentially met.
So I threw the conservative street methanol tune in.
First meth pull 471whp. I was surprised to see this much. The whole idea was keep torque lower to keep the tune safe along with very conservative ignition timing for this application.
I literally kept the ignition timing below 93 octane levels below 5000 rpm.
I still only equaled about what 91 and e20 could do at 7000 rpm ignition timing wise.
My literally 2nd meth pull I hit 505whp.
The set up is a g25-660 with xdi pump stock injectors, my custom direct port meth plate and 750cc meth mixed with e30 and 93 octane. This combination allows up 3-4 more degrees of timing without knock whatsoever. Each degree could literally add up to 7-10whp.
the reason for thesoft torque curve is 100 percent intentional.
It's a not a indication of turbo spool whatsoever being I've spooked the g25-660 with a .72 AR at 3500 with no issues hitting hard at 4000 and never falling off. The last pull I took a tiny bit of aircharge out at 6500 and 7000 and added .75 degrees at 6200 to bring the power curve to my liking. Remember I literally have 4 degrees of timing and only 22 psi at 4000 rpm. I could easily push 27 plus psi at 4000 rpm.
Peak boost was 28 psi but the air temp was 87 degrees an intake iat approaching 115 degrees.
I didn't have proper dyno fans partially my own fault.
On the highway getting cool air the peak boost was 26 psi 27 max.
I have since switch to a .92AR and the exact expected results happened.
More top end so yes currently I am making more than shown here.
Spool moved to 4000 and response to 4500 but from lower back pressure 2 psi lower and I've raised the limit to 7400 only because I am not dealing with back pressure associated with smaller AR.
Yes there are bigger numbers on some dynos I'm not after records. I'm also on stock injectors and I have to leave enough room that if the meth fails I won't detonate the engine or go completely leaned out.
I will say the full race MAF housing gets maxed out using this turbo way earlier than I thought it would. I'm once again MAF housing limited. On to bigger custom MAF housing next.
time for a true 3.75 ID MAF not a 3.35ID which is what the internal diameter measure if the full race MAF housing.
Yes I checked 3 times with a micrometer.