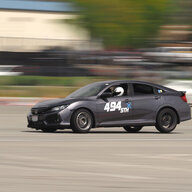 Joined

Feb 14, 2018
Messages
Reaction score

118
Location
Car(s)

2018 Civic Si Sedan

Hi there!
This is a review on the 27Won Front Mount Intercooler (FMIC). I missed the first batch order and was able to get into the second batch. My intercooler was supposed to arrive at the end of February but
@

[email protected]
gave me a call and let me know that it will be postponed a week or so. I had zero problems waiting a little longer and when it did ship, it got to my local UPS location in three days.
My 2018 Civic Si Sedan has just a PRL Cold Air Intake (Street) and a TSP Stage 1 tune (MAP 3) on KTuner V2. Now, let's begin this review and datalog session, shall we?
First off, 27Won provides very good instructions. They are very detailed and you should have no trouble following it. Removing the front bumper can be daunting but it is certainly doable. Make sure you use masking tape. An extra pair of hands helps tremendously. Let me tell you, the 27Won Intercooler is beefy. OEM is so tiny.
That being said, I did run into some small hiccups along the way.
Removing the throttle body coupling was a pain because of how tight and little wiggle room it has. Reinstalling the new 27Won coupling was just as difficult. For one, using the 67-75mm T-bolt Clamp for the 27Won throttle body coupling was very very difficult to get on, it was so tight that it was impossible to get the nut on. I had to slide it towards the drivers side where I could put the nut on and then slide it back over. The T-bolt clamp needs to overcome the throttle body ridge and pushing it continuously actually cut up my hand pretty good. I had to use a couple of drops of WD40 to slide it over, but after that, it tightened beautifully. Wiped it afterward with a rag, gave it another couple turns of the 10mm and it didn't budge.
I experienced the same issue on the hot side coupling into the 27Won FMIC. It was way too tight for the 67-75mm T-bolt clamp to fit over. I slid it over to where I could tighten the nut, put a couple of drops of WD40 on the coupling, and slid the clamp over. Gave it a good wipe, then tightened the nut down. Also, don't worry, I tried pushing the base of the clamp to see if it would slide and it wouldn't budge.
Word of advice, read and follow the instructions provided by 27Won! I got up to the cold side piping install before regretting my initial decision. In the beginning, I thought I could get around not taking off the PRL Cold Air Intake. That bit me back when attempting to install the cold pipe. I probably spent maybe half an hour trying to contort the 27Won cold pipe to get it to fit. After removing the PRL silicon hose that goes into the turbo-inlet-pipe, I had much more wiggle room and I got the cold pipe in within 2 minutes.
Besides these, installing the intercooler, piping, couplings, and clamps were straightforward.
Front bumper reinstall is absolutely terrible, I did not enjoy doing that part at all. I luckily had my father assist me as we spent over 4 hours attempting to line everything up and get it back on. Those clips will be the death of me. Luckily, I didn't scratch my paint.
Now onto the data. I normally float around a knock control of 0.55 to 0.60. I'll hit 0.50 when cruising on the freeway. I blame California 91 octane.
2 back to back WOT pulls on
OEM Intercooler
(thought I got 3, but it was actually 2) :
Ambient air temperature: ~66F
This is the
first
pull, before I go WOT,
knock control 0.59, IAT 78F, IAT2 86F.
You can see a small flat line to the right of 1:09 mark. That is where I began my pull, around 4000 RPM.
This is right before letting off,
knock control 0.65, IAT 75F, IAT2 98F.
This is the
second
pull before going WOT,
knock control 0.69, IAT 82F, IAT2 102F.
Starting RPM was around 3800RPM.
This is right after letting off,
knock control 0.88, IAT 95F, IAT2 114F.
This is approximately 30 seconds
after
letting off,
knock control 0.92, IAT 80F, IAT2 102F.
As we can see, the OEM intercooler gets heat-soaked very quickly!
Below are snippets of the data log after 27Won FMIC install :
These values were taken right before letting off the throttle. Ambient temperature: ~64F
First pull,
knock control 0.62, IAT 73F, IAT2 72F.
Second pull,
knock control 0.75, IAT 82F, IAT2 75F.
Third pull,
knock control 0.73, IAT 68F, IAT2 77F.
Fourth pull,
knock control 0.75, IAT 78F, IAT2 82F.
Fifth pull,
knock control 0.75, IAT 82F, IAT2 82F.
Sixth pull,
knock control 0.66 IAT 64F, IAT2 82F.
My knock control dropped significantly with the 27Won intercooler. Even after 6 pulls (there is some 3rd gear pulls in the mix, but I just counted the ones up to 4th gear), it stayed in the mid 0.70 knock control range with IAT2's in the low 80's. Over the course of 10 minutes, the 27Won intercooler was able to do the job much more efficiently than the OEM intercooler.
Now taking a look at the last pull I did with the OEM intercooler, we can see that my knock control spiked to 0.92 and IAT2's skyrocketed to 114 F. Comparing the last pull with the OEM intercooler and the 2nd pull with the 27Won intercooler, there was a
39 F difference
. A very drastic difference in temperature. Even comparing the last pull on the OEM intercooler and the 6th pull with the 27Won intercooler, it is still a
32 F difference
.
The 27Won Front Mount Intercooler works great in keeping the knock control and temperatures down.
Also, my shifting on the 27Won intercooler pulls weren't the greatest, I was taking it easy
Just wanted to make sure everything was okay!
Power is consistent, it doesn't fall flat on its face after the 2nd pull, unlike the OEM intercooler. Even after the 6th pull, it still felt very strong. I mentioned the concern of turbo lag with the upgraded larger pipes in the original R&D / testing thread that 27Won posted. I happily say that I do not feel any turbo lag, if any. Do recall that I am running the TSP Stage 1 tune on KTuner V2 so that may play a part.
Overall, I am very impressed with this product. Easy instructions and very high-quality materials. The performance is there too! Future plans include grabbing the 27Won W1 turbo and truly seeing how well this FMIC works with a larger turbo. If anyone wants the above data logs so they can look at them in closer detail, let me know and I'll post them, as long as I can figure out how to link the entire .kdlg file.
Now, time to figure out where I should put this 27Won sticker
Many thanks to the 27Won team. I hope this review helps!
Edit: I apologize for the formatting, no idea how attached images worked.
Last edited: