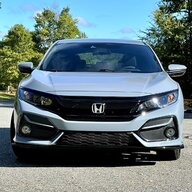 First Name

Aaron
Joined

Sep 1, 2021
Threads
Messages
Reaction score

152
Location
Car(s)

2021 Honda Civic Sport (6MT)
Build Thread

Figured I might as well throw together a single thread for everything I have done and want to do to my civic
This Civic is my first car that I have actually cared about much and have become a bit obsessed with it lol. My first car ever was a 92 Plymouth Acclaim (manual windows baby!). I've also driven a mini van for a few years (an all wheel drive Dodge Grand Caravan which was phenomenal in the North East where I use to live) and a 2013 Ford Focus. Not much to say about the Focus other than how glad I am it is no longer in my life.
When I was shopping for cars I knew that I had to have a manual transmission for my next car. My brother is a petrol head and automotive mechanic and had recommended to me the civic along with a few other hatches. I fell in love with the car, but never actually drove it until I purchased it. Zero regrets doing that.
Getting the car was a tiny bit of a hassle in the year of lack of inventor, but I ended up buying for a genuinely nice dealership a bit more than an hour where I live at no markup price.
My to-do list:
- Upgrade shifter (complete)
— Acuity centering spring, rocker arm, and base bushings
- "fix" gas pedal spacing (complete)
— Acuity pedal spacer
- Foot well lighting (complete)
— Govee Interior Car LEDs
- Window Tinting (complete)
— Carbon tint, 45%
- Front and Rear Strut Bars
- Cobra Cold Air Intake (Complete)
- Halogen for LED headlight housing swap out
- Installing a windshield wiper stalk with an auto setting (gotta research)
Photo timeline
- First drive after the dealership
- Shifter upgrades
- Foot well lights
- Window Tint
Last edited: