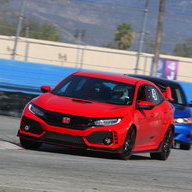 First Name

Glen
Joined

Sep 13, 2017
Messages
Reaction score

239
Location
Car(s)

1999 NSX, 2018 Civic Type R, 2003 Chevrolet Silverado 2500HD

I get that these cars have minor rotor wear. But It looks much worse in person. Something has literally "CUT" into the rotors. All 4 rotors are identical. You can feel the grooves in it. This is not superficial.

On top of everything else they damaged my $2500 ceramic coat and my bumper. This place has been an absolute nightmare.

I understand what everyone is saying but the rotors should not have this type of damaged. They are damaged not just general wear
That definitely sucks that you have such a sketchy dealer. It's hard to tell if they are incompetent or if they were intentionally being misleading.
I tend to agree with the others that in your photos, the wear looks totally normal. The fact that it is identical on all four rotors is further evidence that there is no one defective part. The chances of all four corners (with front and rear having totally different design of caliper, rotor, and brake pad) would all be defective in an identical way is extremely remote.
Even mildly aggressive brake pads do score rotors in that way from my past experience. There are also plenty of people who have posted about the OEM brakes making annoying squealing noises. Mine, after 20K miles, sometimes make metallic scraping noises (typical of well toasted pads). And yet upon inspection, the pads still have some more life remaining.