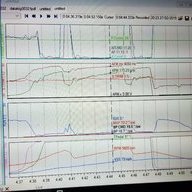 Joined

Jun 6, 2018
Messages
Reaction score

1,087
Location
Car(s)

2020 Si Coupe 91 Talon TSI AWD 6262 280's N20 and 87 Buick Regal T 6776bb built N20

Just took possession of my 2020 last night and so far have about 40 miles on it. There is another comparo thread that mentions how much more buttoned down the overall feel of the car is and I have to strongly agree.
>Honda has seemingly made a lot of silent changes (for example the sunroof assembly is much tighter including the sunshade). The a-pillar covers are tight to the a-pillar compared to my 18 (no rattling later on hopefully). Also in place and fitted much better (no strange gaps at the end).
>Driver sun visor has a vanity light now instead of the panel filler piece my 18 had (indicating some planning on Honda's end to add some of this stuff)
>20's come with a little wire extension thing for the usb access to android auto (alleviating the awkward plugging in down to the port in front of the shifter beneath the head unit)
There does seem to be just a touch more road noise with the new wheels (maybe they are lighter?). Although the overall car seems much quieter and more refined for whatever reason.
>LED lighting up front (now also the factory fog lights are led...something i didn't know)
>The parking brake switch now has a red indicator light in the switch which helps.
>Glove box light is added.
>Cup holder has spring loaded fingers now (nice).
>Shortened final drive: I love the gearing change...the car is much easier to drive.
>Honda Sensing pack: lovely stuff I didn't know I wanted. Definitely helps during my 40 minute drive to and from work.
>Red trim on the dash is a nice touch along with the red carbon weave pattern in the seats.
>Platinum white pearl has a lot more metal flake in it compared to the white orchid pearl from what I can tell.
>Exhaust noise supplement: very subtle and like magic. I have no idea where/how its working but its a Goldilocks amount of sound for me. Havent ripped on it yet (still only 200 miles on her) so I cant give a full eval but so far so good. Only seems to work in sport mode.
Last edited: