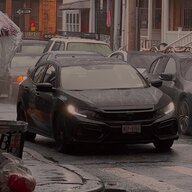 First Name

Chris
Joined

Oct 15, 2020
Messages
Reaction score

46
Location
Car(s)

Honda Civic 1.5T EX Hatch
Build Thread

Starting a build blog/journal for my FK7. Feedback, suggestions and opinions all welcomed.
Here's a short back story to start off I been a FK7 owner since September 2020. At 2 mi on the dash I picked up the love of my life from Hillside Honda Queens NY.
As my 2nd Civic owned I had a little prior knowledge of Honda and always been a huge fan boy. Going from an '05 to '20 this Car impressed me straight off the lot. the CVT transmission made driving in NYC's terrible terrain smooth (still gotta dodge them potholes). I made a decision to keep my car fully stock until 2021 even down to the dealer plate covers and the stupid sticker they decided to smack on my car's ass
I did this so I can thoroughly do my research on the CVT transmission. After learning the basics and reading countless stories I had an idea of the limits and what mods I wanted to do. After, I began doing my research on each individual mod to make sure I knew what I was doing and not just slapping it on cus gtman said it's good
During this time of learning I took several road trip. One to note was my cross country road trip. As a New Yorker it's always been a dream of mine to road trip the nation. So the day after Xmas 2020 I did just that! Me and Suki (what I named my car) and 2 other friends hit the road. We fit comfortably inside the car with our luggage being accommodated by the spacious hatch. The car was outstanding! Even though I felt like I had the only civic mid west, she was keeping up with all the pick up trucks and AWD cars. Under medium rough road conditions (blizzard in PA, Ice roads in CO, uphill/downhill for most northern states) the car took it like a champ. It kept me feeling completely confident when hitting these harsh driving conditions. One last thing to note during my road trip is the adaptive cruise control (ACC) and all of Honda's sensing technology. I've never experienced car tech like this so I was amazed easily. Driving straight for 12+ hours a day on the interstate was a breeze, the car with all its features activated kept the stress of long driving to a minimum. The ACC + Honda sensing had my car basically driving itself. It kept me centered in my lane (Good for someone who's been staring at a straight road for 10+ hrs), slowed down if I got too close to a car and sped right back up when I was clear (who needs a Tesla!). I was truly impressed with Honda this was the perfect car for road trips.
Now that I'm back I decided to start working on my car. Here is a list of my current mods:
1. Ktuner - currently running 21 Dual Starter map
2. DC Sport Strut Bar
3. Mugen push to start button
4. Supreme Key chain (hanging on passenger side)
5. Yellow tinted fog lights (laminx)
6. Honda license plate covers
I will eventually post to this same thread an In depth review for my tunes and mods
Last edited: