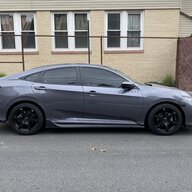 First Name

Michael
Joined

Oct 7, 2020
Messages
Reaction score

105
Location
Car(s)

2020 Honda Civic Sport (Sedan)
Build Thread

Hello, I decided to share my Civic Sport modifications. Mostly they will be just visuals, due to having NA 2.0L but maybe in the future i will try KTuner
My goal is to remove as much chrome as possible and give interior some better look but not too overwhelming. I will be updating thread with new things i put for my car instead of spamming 'what did i do to civic today topic'
This is my first 'real' car, so i don't have much experience with any modifications - any feedback and advices much appreciated!
So i got my Civic in September 2020:
First modification were Tinted Windows (50% front and back
Then changed dealer plate's frames for non-chrome ones:
BEFORE:
AFTER:
also swapped OEM Chrome Lug Nugs for black ones from Amazon - they look better in my opinion
BEFORE:
AFTER:
Most of the headache i got trying to tint taillights - their shape is not helping at all, i spent like 3 hours to try to do it right (i don't have heat gun, so had to use hairdryer) but still it's not perfect - there is a lot of 'bumps' and air bubbles and some scratches. It looks okay from distance but when you look closer, it's not great. I still have some vinyl, maybe i will try to fix it one day
Also i still have to tint those parts on trunk, but I'm waiting for warmer weather.
BEFORE:
AFTER:
For interior i still have some ideas, but for now just changed only few things (mostly to make it more practical):
Rubber Mats for Cup Holders, Side Doors Pockets etc.
I got Central Console Storage Box for more functionality:
and new carbon-like sticker/cover on my shift knob:
plus red LED lights to make interior nicer at night:
—————————————
LINKS:
- Floor Mats:
https://www.amazon.com/gp/aw/d/B086QVLPS6?psc=1&ref=ppx_pop_mob_b_asin_title
- Lug Nugs:
https://www.amazon.com/gp/aw/d/B00B2FCAG4?psc=1&ref=ppx_pop_mob_b_asin_title
- License Plate Frames:
https://www.amazon.com/gp/aw/d/B08DHVSSG8?psc=1&ref=ppx_pop_mob_b_asin_title
- Central Console Storage Box:
https://www.amazon.com/gp/aw/d/B0894LF8SG?psc=1&ref=ppx_pop_mob_b_asin_title
- Taillights Vinyl:
https://www.amazon.com/gp/aw/d/B07PN4K1R9?psc=1&ref=ppx_pop_mob_b_asin_title
- Shift Knob Sticker/Cover:
https://www.amazon.com/Kadore-Inter...ber+Style+interior+gear&qid=1609169741&sr=8-4
- Cup Holders/Door Sockets Mats:
https://www.amazon.com/Custom-Center-Console-Liner-Accessories/dp/B07D4LRBDT?th=1&psc=1