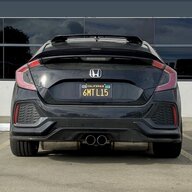 First Name

Daniel
Joined

May 2, 2018
Messages
Reaction score

406
Location
Car(s)

Black Civic Hatch Sport 6MT

~big shout out to Muscle Tuner Auto for all the work they've done for my car - check them out if you're in LA
some updated pics
--useless backstory:
Around the beginning of 2018 I started looking at civic hatchbacks (no knowledge of how cars worked at all). Long story short I started looking into black wheels for the black hatchback and fell into the deep rabbit hole of mods and learned more about how cars operate. Around this time I accidentally discovered the autostick mode in the hyundai elantra my family was leasing but I had no idea how gearing worked. When I tried accelerating in 1st gear I got scared because I felt the engine resistance increase with the rpm and the speed was tapering off lol, but after a while I got comfortable selecting my gears. Pretty soon I was having fun beating on the car with the autostick for a few months between school and work. After learning how torque converters/clutches worked, I thought to myself, how awesome would it be to have an actual clutch to disengage the engine between shifts?
05/18/2019
Hatch sport arrived in front of my apartment. Never drove manual before but I did a lot of research (thanks Matt from TheSmokingTire for most concise video). Getting the car to the parking garage was pretty rough, I chirped the tires and then stalled within like 50 feet of driving. Practiced 1st and reverse gear in the parking lot all day, with a little bit of second gear towards the end. When the sun set I did some laps around the block then did a 2 mile round trip when the city roads were somewhat empty. Some third gear going on, no downshifts yet.
05/19/2019
Drove around all day, can pretty much handle los angeles traffic now with the quick stop n go's and sudden speed changes. Biggest issue was consistently feathering the clutch in hard stop traffic (rarely get to cruise) and the 1-2 gear shift which is pretty rough because the anti shift triforce of rev hang, heavy flywheel, and clutch delay valve. Can do downshifts now but sometimes I either hit the gates or not blip the throttle hard enough so I have to double blip. Definitely feel more comfortable with the shifter and clutch but I'm still pretty tense in traffic because I'm always one mistake away from stalling on a busy street.
Short term mod list:
-driver mod
-ktuner with stage 0 + no rev hang and better throttle response
-acuity shifter cable and shifter base bushings
-clutch delay valve removal and prl ss clutch line
-rear engine mount (27won or hasport 62a)
-hfp tailgate spoiler
Ultimately this is my daily driver and I just want to be able to have fun in the streets whenever I'm commuting (nothing crazy, I just genuinely enjoy shifting). Once I'm decent at driving stick I want to have the best shifting experience and I think these mods will do it, also the hfp spoiler because I always thought it looks awesome. Probably will install these in a month or two, break-in period will be over as well by then
Future mods:
-ktuner stage 2 base map
-spec clutch (stage 2+?) and smf flywheel (aluminum?)
-possibly coilovers based on how I feel with stock suspension
-possibly sway bars based on how I feel with coilovers, but probably not because I don't want any wheel lift on the bumpy streets
-intercooler, catted dp, fp; sri for sound lol. don't want to risk cai when it rains because there's always drainage issues
-invidia q300 catback or ark dts catback
-18x9.5 close to stock offset wheels, summer tires (probably 245/35 or similar based on fit)
some pics
Last edited: