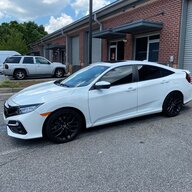 First Name

Ed
Joined

Mar 16, 2019
Messages
Reaction score

302
Location
Car(s)

2020 Honda Civic Si Sedan - Mine, 2017 VW Jetta SEL - Hers

Hello, all! I'm new here but a long time Honda/Acura fan having owned everything from an '89 Accord LX (carb'ed) 5pd as the first car I bought on my own to a 2010 Acura TSX 6MT and a plethora of Accords and last year Prelude in between. I recently turned in the lease to my 2016 BMW 328i M Sport 6MT that I spent way too much money modifying tastefully. I now own my own business and work from my home office so I'll be buying a first gen Miata cream puff to satisfy the urge I've had to buy one of those ever since I got my drivers license. My gf's car (2016 Malibu Hybrid - junk) is due to end it's lease around July so we'll be looking to replace her car with a new Civic Sport. We decided on the Civic Sport as we are looking to buy a car either entirely outright or pay half of it down initially and pay it off in a year or so, so a $22K Civic fits that bill well. In addition, ever since I got my BMW she has learned to and enjoys driving a manual so a win-win there for me. My Miata will be the car I drive on occassion, in the moutains, and on nice days so the Civic will be our daily driver and car we take trips in. Also, as we plan to own this car outright, we plan on actually keepint it for the long haul (6-8 years) and I much prefer the simplicty of the 2.0L N/A motor with the manual. As we don't have any children we don't require a 4 door moving forward but rear doors do come in handy. In our opinion, the coupe looks slightly better than the sedan for virtually the same price but I'm trying to discern if there is any actual equipment differences between the two at all. It appears, according to the Honda website, be identical equipment wise. Am I missing anything?

The only thing that kills me is the Sport, which is the ultimate value it seems, lacks LED or HID headlights. I've had them on my last few cars and have grown accustomed to them. Is it possible/feasible to buy the Touring model LEDs and just do a direct replacment. Coming from the BMW world, EVERYTHING you did on those electrically required an insame amount of work and coding and even then was hit or miss.

Thanks in advance for the help. I'm looking forward to absorbing all of the new Honda info here as my in depth knowledge is back from the H22 Prelude days!