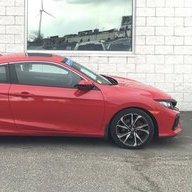 First Name

Nate
Joined

Apr 11, 2019
Messages
Reaction score

7
Location
Car(s)

2017 Civic Si
Vehicle Showcase

Hi everyone,
For the past three years I have owned a 2017 Si coupe that was purchased used with 1200 miles. This car has been daily driven approximately 60 miles back and forth to work 4 days a week, gone on multiple road trips, and has been an absolute pleasure to own. The only modification that has been done to this vehicle is an acuity stage 1 shift kit plus the cable bushings. Service has always been done on time by the same certified dealer. In the recent past, it fell victim to the A/C failure that many have experienced, and it was fixed at no cost.

Living in the north east, it has been driven through inclement weather and does not have a spot in the garage at home. Moving forward, no, this car has not been babied its entire time on the road, nor has it had the crap beaten out of it. Quite religiously I have done a 2nd to 3rd gear pull on the on-ramp both to and from work, and cruise on the highway at about 75-85mph. On back roads I have enjoyed some aggressive driving in sport mode, but never pushed it past the point where I or the car felt unsteady besides a little tire chirping. Throughout these fun times I've had with the car, I've accidentally bounced it off the rev limiter a couple times initiating the first stage of a fuel cutoff, missed enough shifts to count on two hands, but never thought I had done anything that could be catastrophically damaging.

Last Thursday after a day of rain, a portion of the highway that I travel on was recently paved and a stream of water was consistently forming across the road, which had my traction control lighting up like crazy! On that same drive home, I floored it in 2nd gear after a stoplight and it spun out the tires to redline. Last Friday night, on my way home from work, after trying as hard as I could to dodge it, I accidentally hit a possum with both left tires resulting in a decent thud both times doing about 35 mph. No problems in the moment, felt bad about it and moved on.

Come Saturday morning when starting up the vehicle, I was greeted with a list of problems such as: Emissions System Problem, Traction Control Problem, Stability Control Problem, Hill Assist Problem, Brake Hold Problem, Power Steering problem, and while it was still idling in the driveway I tried to put it into sport mode and the car would not let me. I have a Verizon Hum tracker on my vehicle that keeps track of my driving and provides diagnostic codes when a problem occurs. The only actual code that I received was p0304 for a cylinder 4 misfire. I did some research and saw that the warranty from Honda was extended to 6 years / unlimited miles, so I arranged to have it towed to the same dealer that has always worked on it to be fixed. Earlier today I got a call from the dealer asking if I had made any attempts to tune my vehicle, in which I responded no and asked about the p0304 code, which he had not even addressed. He said that it was throwing a p0219 code, but could not provide any further information. After doing some research myself, my heart sunk as the code states there was an over rev of the engine which could leave me responsible for any damages if it is true. Further investigating, from what I understand there are certain circumstances in which a p0219 code can be falsely triggered. I'm sure my Verizon hum does not provide nearly as much information as a certified Honda scanner would, but I am shocked that this problem is only coming to light now after years of ownership and consistent service. I understand how this looks, and I am ready to face criticism if necessary. On the Thursday night during the storm, my hum read my average speed for the trip as 1203mph with a top speed of 82mph, and on Friday night said my average speed was 153mph with a top speed of 83mph which is unusual as it normally provides quite accurate information, which leads me to believe something involving the cars computers are going haywire. Do you guys think there is any chance that some sort of electrical component has severely failed which is providing a long list of false readings? The car will be sitting at the dealership until further notice, hopefully some good news can be brought to light.

I want to say thanks to anyone who took the time to read this, and would appreciate any input both constructive or criticizing.