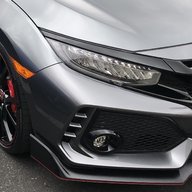 Joined

May 27, 2017
Messages
Reaction score

95
Location
Car(s)

2019 Civic Type R, 2017 CR-V AWD Touring

I enjoyed the Si, but always wished it were dialed up just a
bit
more, mostly in terms of handling. And I'm not a fan of the heavy flywheel & rev hang; rev matching was a job, not a joy.
I understand why they made some of the trade-offs from the previous gen (I drove a '13 for 4 years), but ultimately, I think they reduced the overall "sportiness" more than I'd have wished. It also bugged me that the difference between Sport and not is so subtle.
The R does not disappoint!
And it's nice to be "back" in one again: I had a 2000 ITR & loved it until I made the mistake of driving my friend's S2000. I subsequently owned a 2002 S & then a 2005.
Unfortunately, it's a rainy day, but I am
very
happy with the handling (and the car in general) so far.
Went with PMM to balance the looks a bit. My wife thinks it's too outrageous looking (mostly because I'm 46), but I think that'll change once she drives it.
. 11-year-old daughter loves it!