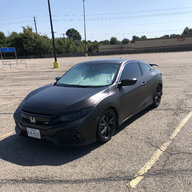 First Name

Leslie
Joined

Apr 17, 2019
Messages
Reaction score

12
Location
Car(s)

2018 Civic Si Coupe

So, I'm sure this has been posted a million times, but the majority of posts are also about Si's or MT in general so are not fully relevant. I'm slowly working on modifying my EX-T Sedan with the CVT, I got the obvious starting point of a KTuner(or Hondata) and I have a PRL Cobra CAI "Race" coming in this week. Where to next? And after that? Trying to make an ideal list with the ideal parts. I also saw the CVT in Thailand with a bolt on turbo pushing 279WHP with no issues, but is the Thai CVT different than the NA?
1. Downpipe?
Should this come before FMIC? Cost wise, it is clearly superior, but longevitity of the enginge? I have yet to read anything negative with regards to PRL products either, so would the PRL Downpipe be the BEST? Or is there a better option with more power?
​
2. FMIC
Above question? Obviously the power gains are far smaller than the Downpipe, but maintaining a lower overall temperature is huge for longevity. Again, absolute best FMIC?
​
3. Exhaust
Beyond the downpipe, possibly front pipe, and sound, is this really going to add much power wise? If so, what're the best options. So many choices on exhaust, I've read a million threads and everyone has different opinions, but anyone have hard data?
​
This is where I start to get fuzzy, or I slide away from "Engine/Exhaust/Transmission" choices.
Tires are obviously a huge factor, where do they fit into all of this though? I have the standard Firestones that come stock right now with about 30,000 miles already on them. Price wise, the Downpipe is the equivalency of two tires, so what is the best option?
Does a rear engine mount really make a difference?
What does the Flex Fuel Converter ACTUALLY DO?
When do you worry about Brakes/Suspension?
I like to organize, go a little OCD, and extra nerdy with this stuff. So I want to compile a list of the order of items I w