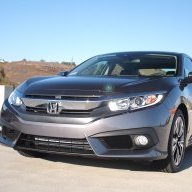 Joined

Mar 9, 2016
Messages
Reaction score

72
Location
Car(s)

2016 Civic EX-L

Headlight: OPT7 LED Headlight Bulbs H11 60w 7,000Lm 6K Cool White Cree
Fog light: 30w 6K Super Bright White Projection
I still have the stock fog lights on at this time...
How it looks at night...new fog lights arrived the next day...
here, installed my new fog lights

UPDATE 6/30/2016:
1) After approximately 3 months using OPT7 LEDs, one of the drivers stopped working.
Contacted OPT7 customer services and got a response quick in one hour.
Result: new part is shipped to me
2) Because of this I read into the review between OPT7 and XenonDepot Xtreme HID kit.
Here's what I found:
http://www.toyotanation.com/forum/3...ondepot-xtreme-hid-vs-kensun-all-one-led.html
I decided to give it a try since I did in my mind complaint about the short range vision of OPT7 LEDs. Ordered XenonDepot Xtreme HID 5000k and arrived within 3 days.
It took me about 1 and half hour to install because I've never deal with HIDs before. (should take less than 30 min if do it again)
Result:
XeononDepot HID is a lot better than OPT7 LEDs simply because it projects further and still gives an impressive amount of light output.
installation was a lot longer but overall not too bad in my opinion.
Last edited: