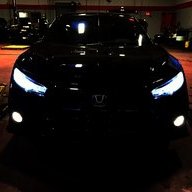 First Name

Bob
Joined

Dec 30, 2018
Messages
Reaction score

20
Location
Car(s)

17 Sport Touring 6MT / 02 WS6
Hey everyone.
New here from Ontario Canada. Working for a Honda dealer for over 10 years, when my wife spotted the new hatchbacks late 2016 she decided her 300,000km 05 CRV was about due to be sold and a new hatch was coming home.
So we placed the order for our stores first Black 2017 Sport Touring 1.5T/6MT Civic. Car was built Feb 27/17 and we took delivery Mid March after it's trip from England to Canada. It was nice as I got to do the PDI myself and see it every step of the way from off the truck to her driving it home
It currently has 64,000KM on it and looks better then the day she got it. She daily drives 150KM a day for work. Car regularly gets 4.8-5.1L/100KM and has been nothing but reliable and fun to drive.
I run Castrol FTT 0W20 GDI formula oil every 8000km (works out to about 50% on the MM, then do whatever service code is due when at 15%), also run Royal Purple Max Atomizer injector cleaner every 5000KM. Car also from day 1 has only ever got Shell 91 which has no ethanol here in Canada. Also changed the PCV valve at 60,000km. I recently did the N66 oil dilution update, although being highway driven this car has never had an elevated oil level, and I check it every other day.. cause I'm anal that way... which is why I've modified the dipstick so I can read the damn thing.
Here she was from day 1 with being the first one to drive it, and gas it till now with most recent photo being today, rocking its RWC winter wheels and Blizzaks.
Always use Adams Products, car likely has more sealant and wax then clear coat at this point. For a daily driver with 64,000KM the paint literally looks better then day it came off the truck.
Oil level photo is with 3500KM since last oil change, bang on.
Also included my 2002 WS6, LS1 6 speed Trans Am.. until Honda makes a nasty V8, this old girl will be my toy lol
Last edited: